I purchased the Lelo Loki after hearing quite a few reviews raving about it's deep and rumbly vibrations. To say that I was underwhelmed, would truly be an understatement. To get the full details, read on.
Let me start off by saying that Lelo is a company that has made some extremely questionable decisions. I won't go into the details, because other bloggers have done a fabulous job already. One specific thing I will mention though, is that this toy is specifically marketed as a toy for men. I have a prostate, and I am most definitely a woman. However, despite marketing that specifically stated that this toy wasn't for me, I wanted this toy. I'd heard rave reviews and I needed to see if they were true
The Loki is made of body safe plastic with the top 3/4 of the toy coated in silicone. It is rechargeable and waterproof. It is supremely easy to clean, but please don't throw it in the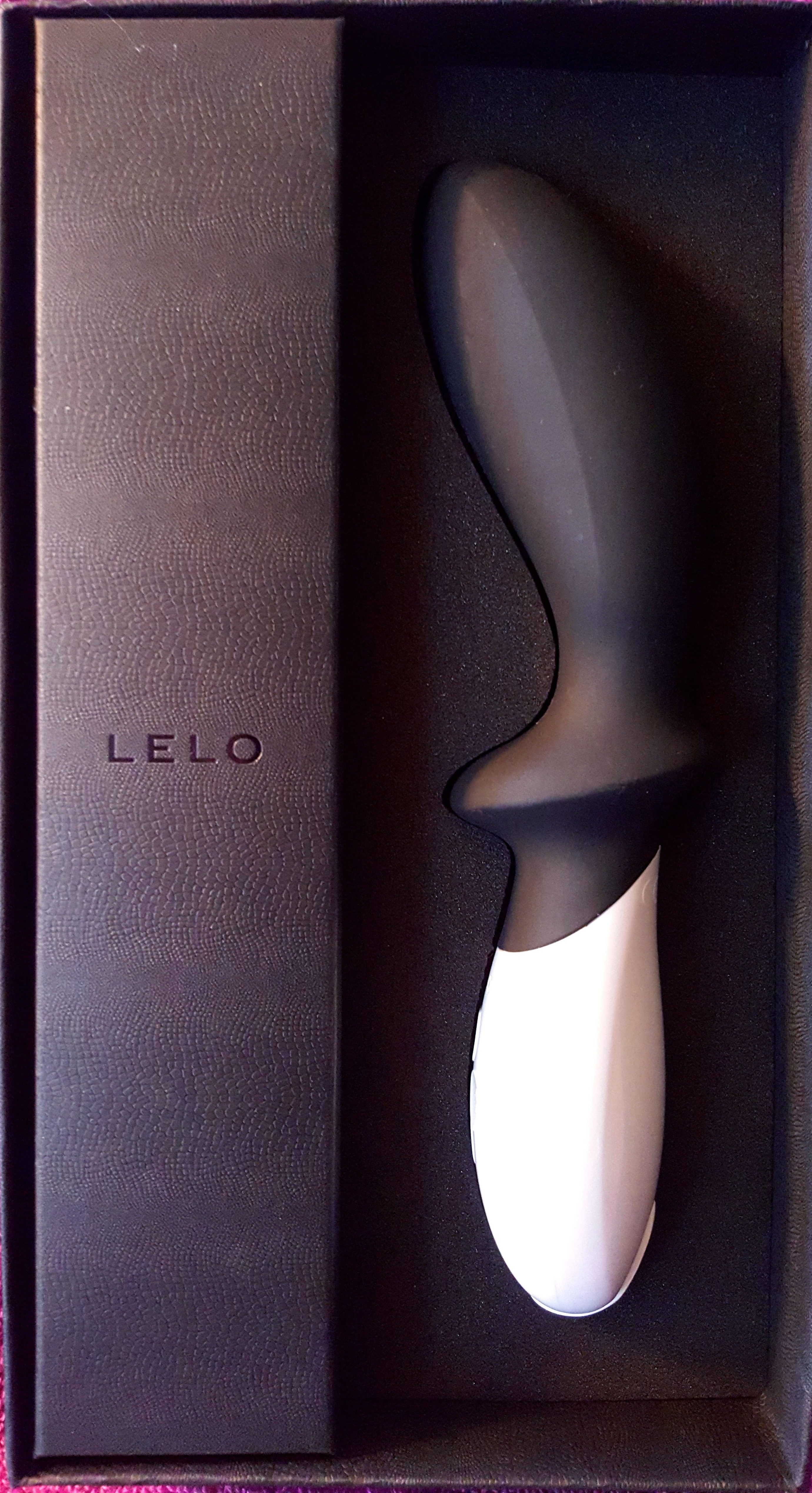 dishwasher. It charges via a cable that inserts into the lower end of the toy and lasts about 2 hours on a 60 minute charge. Just to be clear, the cable is included but the wall adapter is not. It is 7.5″ long with about 4″ of that insertable. It has a maximum diameter of 1.4″ and a flared portion to make the toy anal safe. The silicone has a satin like finish and feels great. There are 6 levels of intensity, and 6 pattern settings (not including constant). It uses a 4 button control scheme, +/- for intensity level, and up/down for pattern settings. It has a travel lock that can be enabled or disabled by holding  down the + and – simultaneously for 3 seconds. You turn it off by holding down the – button until it shuts off. It is quite quiet in use. I have it in obsidian black, but it is also available federal blue. As far as design, the toy is really quite lovely.
I was quite excited to try this toy, so after charging it fully, I set about to testing. With a bit of lube, it slid quite easily in. I personally don't need to warm up at all for this size of toy, as it's well within my comfort zone. I turned it on to the lowest setting, and had to just sit there for a minute, trying to see if it was on. I barely noticed the vibrations, so I quickly turned it all the way up. Once all the way up, I could feel the toy vibrating in my butt. Not against my prostate mind you, but just in my butt. I pressed hard down on the handle hoping to direct the vibrations properly. I felt the vibrations against my prostate, but they definitely didn't penetrate at all. To me, it feels buzzy, not rumbly. I definitely felt the vibrations in the handle though, and it made my fingers itch. Eventually I gave up and reached for other toys. The next time I tried, I promised myself, no other toys. I pressed the Loki hard against my prostate and pretty soon, I didn't feel the vibrations at all. I could feel it in the handle, I could feel it on my sphincter, but I couldn't feel it on my prostate. At all. I had hear of people numbing their clitorises from buzzy vibrations, and I'm going to go out on a limb and say that I just numbed my prostate.  At this point I am bored and not a little annoyed. Most definitely not aroused though. But I am absolutely determined to get off with this toy, if only for the sake of this review. So I grab my Hitachi, and press it against myself. And I can't get off. I want to point out that my Hitachi is my sure fire way to get off. 90% of the time it's more than enough on its own, and the other 10% of the time I only need the most minimal of additional stimulation to push me over the edge. Finally, disgusted I pulled the Loki out of me and gave up.
There have been attempts since then, many. And every single one of them has ended the same. I was confused. Other people loved this toy, and for awhile, I felt strange, like something was wrong with me. However, others online pointed out that not every toy works for everyone.
UPDATE: I held off on on posting this for awhile. After a lot more struggles with this toy, I was finally able to bring myself off while using it. And that orgasm was pathetic and frustrating and totally not worth the effort it took to achieve.
At this point, I can find absolutely no good reason to recommend this toy. The vibrations feel buzzy and the only orgasm I was able achieve with this toy was pathetic and underwhelming. Add that in to the behavior of Lelo as a whole, and this toy is a no go.
If you want something similar, try the L'amourose Rosa here SheVibe | Lovehoney
If you absolutely must purchase the Lelo Loki it can be found here SheVibe | Lovehoney