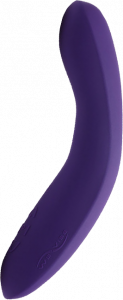 When I was sent the  We-Vibe Rave for review, I was thrilled. I'd never had the chance to review an app-connected toy and I was excited at the prospect. I thought for sure that I'd love using the app to fine tune my orgasms. I'd soon be creating patterns and having fun having my partners control the vibrations. I knew that I'd love this toy. And I was right, and I was wrong. Like so many of my toy reviews, things definitely did not go as I'd planned. What a surprise. Read on for more details.
How Does It Look
The Rave is a curved purple vibrator designed for G-Spot Stimulation. It is a rechargeable, silicone vibrator with the ability to connect to an app. I'm a little irritated by the fact that it is only splashproof and not fully waterproof. Not that I'm a big fan of bath time play, but rather that I am always worried that I'm gonna kill this toy when I go to clean it off. So far this hasn't happened, but still I worry. Also, the charging port is just a bit nerve wracking as you have to stab the charging plug, through the silicone, into the body of the toy. Again, so far it has worked fine, but still feels weird.
The Rave has a non symmetrical shape to its head, that I believe is supposed to allow either broad or fine stimulation. We-Vibe calls this their "Pleasure Edges" and of course has some little paragraph that talks about "a new dimension to internal stimulation." Call it what you want, but I am not a fan. The edges always seem to irritate me as I'm inserting the toy. Also, moving the toy around internally feels uncomfortable to me, so I just end up leaving it in one position all the time. That's not exactly the way I prefer to do things when trying for an orgasm.
How Does It Feel
The vibrations the Rave puts out are excellent. It feels deep and rumbly everywhere it touched. Using it in my vagina felt wonderful, although it wasn't enough to make me come. I more commonly used it as a clitoral vibrator. While the shape of the toy made it a bit awkward to use, it was more than enough to push me over the edge every time I used it. The result was strong, leg shaking orgasms and I couldn't get enough. I never found the patterns to be to my liking. Instead, I cranked it to it's maximum power, until my legs shook.
But if you've read my blog, you know that I love prostate stimulation. I had to try what this felt like in my butt. You shouldn't do this, as this toy was never made for anal play. But I tried it. For science. And it felt great. The Rave pressed against my prostate combined with clitoral stim led to fabulous orgasms. Again, you shouldn't be doing this, but I did. This vibrator feels amazing.
Final Thoughts
The Rave by We-Vibe is an excellent vibrator, with great vibrations. Wherever you decide to use this toy on your body, you won't be let down. I'd absolutely recommend it to anyone looking for a powerful rechargeable vibrator. As for the app, it really wasn't my cup of tea and I certainly wouldn't recommend it on that alone. But if rumbly is what you are looking for, you can't go wrong with the Rave.
The Rave was provided by We-Vibe in exchange for an honest and unbiased review
The Rave can be purchased here: SheVibe