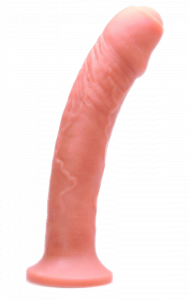 After my last round of testing, I was anxious for a toy with a little more give. When I saw the Uncut #1 by Tantus online, it seemed like just the ticket.  With a large head, lovely detailing, and high quality dual density silicone, the Uncut #1 seems excellent on paper. I've had some time to thoroughly test it. Read on for more details.
The Uncut #1 is a realistic silicone dildo made by Tantus. As with every dildo made by Tantus, the quality and craftsmanship is excellent, with no mold lines and minimal bubbles. The head of the Uncut consists of very soft silicone and has quite a bit of give to it. Also as the name implies, this is an uncircumcised dildo. The shaft has a firmer inner core, surrounded y the same soft silicone used on the head. The base of the toy is firm and circular, with no marking whatsoever on it. This was a source of frustration for me, because I would routinely lose track of which way the curve of the dildo was facing while I was thrusting. The toy flexes easily, and will not stand up on it's own. However it does have enough support to retain it's shape when held horizontally, for instance, when used in a harness. The lack of stability also made it difficult at first for me to insert the toy. The Uncut #1 has an insertable length of 7.5″ and a maximum diameter of 1.75″.  I have it in the color Cocoa, but it also available in Cream and Mocha. I really like that while the toy has a high level of detailing along the head and shaft, that it didn't amount to alot of texture. As has been proven in the past, I don't do well with intense textures, as they just seem to irritate me. The toy has a prominent head which I hoped would provide a lot of prostate stimulation. As this toy is silicone it is easy to clean, but with all the details on this toy, please make sure you get any lube or fluids out of the tiny crevices. Also make sure to rinse this toy before using it, as I've noticed it seems to attract quite a bit of dust and hairs.
At first, I struggled to insert this toy. It's flexibility and ability to drink lube endlessly, made it difficult. But eventually the ultra soft head popped inside of me. The size was quite comfortable, without feeling too small. I tried at first, short strokes aimed at my prostate, but as usual with dual-density toys, the head was too soft to create intense stimulation. So I switched over to long, deeper thrusts,
and this is where the Uncut #1 shines. The curve of the toy presses against my prostate throughout the entire length of the thrust. As I said, it's not intense, but definitely very noticeable and enjoyable. The soft silicone helped me avoid depth problems, as the toy would give when hitting the back of my rectum, instead of poking me. This allowed me to thrust a lot faster and harder, as I didn't have to worry as much. While there are other toys that are soft enough to avoid poking, this one in specific seems to work great as a deep thruster.  I usually switch to a firmer (and larger) dildo to finish, but this toy currently is the first thing I reach for and I am really enjoying it.
The Uncut #1 by Tantus is a comfortable, decently sized, and uncircumcised dildo. It is enjoyable to use and made from quality material. Despite some minor complaints, such as base stability and insertion difficulty, I definitely recommend the Uncut #1. For those looking for a toy that is great for thrusting, and aren't looking for firm or intense prostate stimulation, this toy is perfect.
The Uncut #1 was provided to me by Tantus in exchange for an honest and unbiased review.